In every Product Data Sheet received, one thing most manufacturers' would emphasize on is the importance of surface preparation. While it's not necessary for the substrate to be flat, it however requires a structurally sound substrate free from any contamination before any coating application can be done, failing to do so would only cause an unsuccessful installation. While it is paramount for any application to have a good surface preparation work, unfortunately this stage is also considered the most over-looked.
What happens if the substrate is ill-prepared?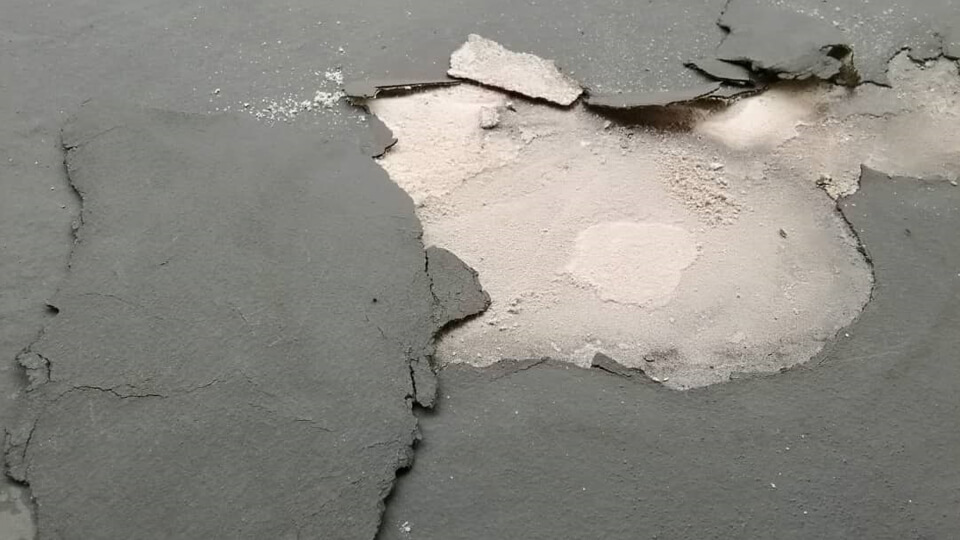 Bond Failure
Bond failure or adhesion failure at the substrate occurs when the coating or flooring system delaminates at the bond line. Depending on the circumstances, adhesion failure may be observed when coating starts to peel off (especially for thin coating) or formation of a noticeable hump in the floor (especially for thick coating such as screeds) where overtime will lead to cracking as well as heavy crumbling of the floor. While this may seem trivial to some, the exposed flooring could act as a trip hazard, as well as being the focus point for dirt, dust and bacteria to accumulate. Which defeats the whole purpose of applying a coating in the first place.
Prevention
Given the risk above, here are a few things to take into consideration:
Do proper inspection. Determine the concrete's general condition, soundness, presence of contaminants and check on moisture vapor emissions. Do make sure that newly poured concrete has sufficient time to cure. Test several areas for moisture/moisture vapor is the only valid way to tell if the slab is ready for coating.
Decontaminate the concrete surface. Remove any signs of oils, grease, wax or fatty acids by detergent scrubbing with a heavy duty cleaner, low pressure water cleaning, steam cleaning, or chemical cleaning.
Vacuum all loose debris, dirt or dust. If a coating is installed over dust and dirt, you are directly bonding the coating to a layer of dust and dirt. A gentle reminder that most coatings will only be as strong as what it is applied onto.
Determine how much surface profiling or what degree of roughness is needed for the specific types of coatings being used.
Be thorough of the most effective tools and equipment of choice when carrying out mechanical preparation. A few common methods would be abrasive blasting, shotblasting, grinding, etc.
Repair any irregularities. Spalls, cracks, deteriorated joints and especially areas near transition zones such as drains or doorways. Use proper grouting materials to patch as well as fill crevices on the floor.
Once profile has been verified, apply the proper coating system. After coating is cured, test the quality of adhesion to ensure it remains intact.
Cut The Short-Cuts
Cutting corners only leads to costly shutdowns, unsafe operations, or even equipment replacement. Take the time to assess what is necessary to be done be it on new concrete floor or existing. Proper surface preparations not only achieves strong adhesion but maximizes your coating's service life. Surface preparation doesn't mean it has to be a dreadful extensive process, seeking experienced and professional help is the key to your floor's longevity.
Trained and experienced applicators are available to ensure a flawless finish for your flooring project. Call us today for any enquiries.